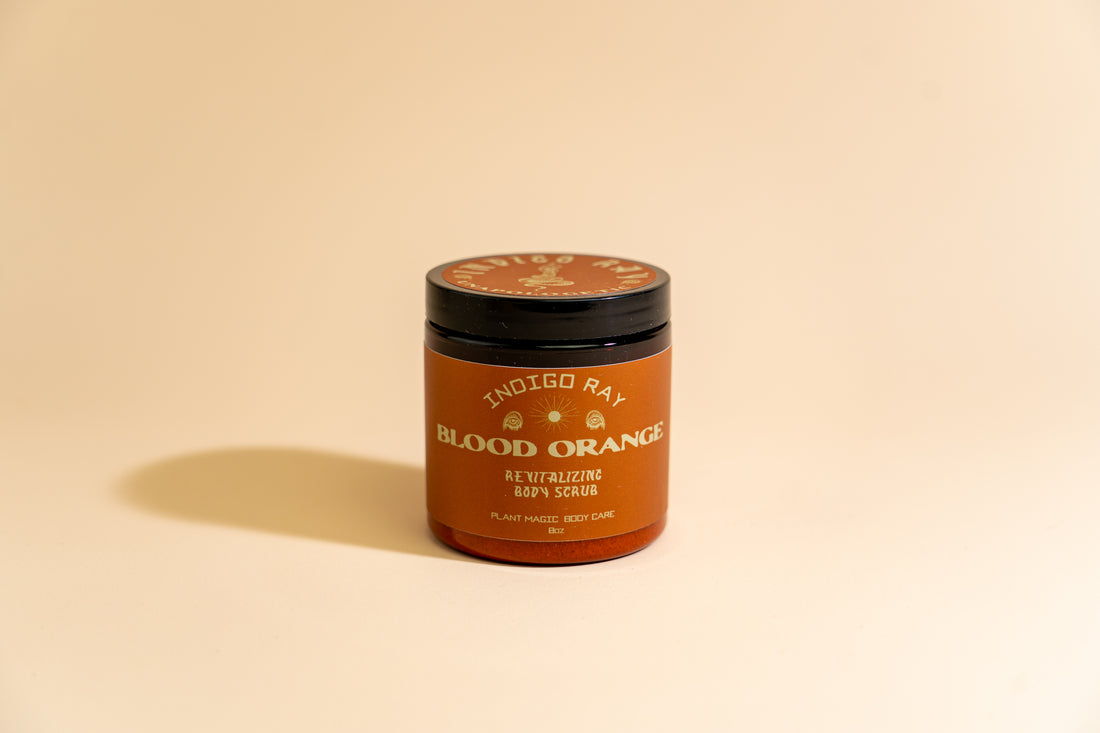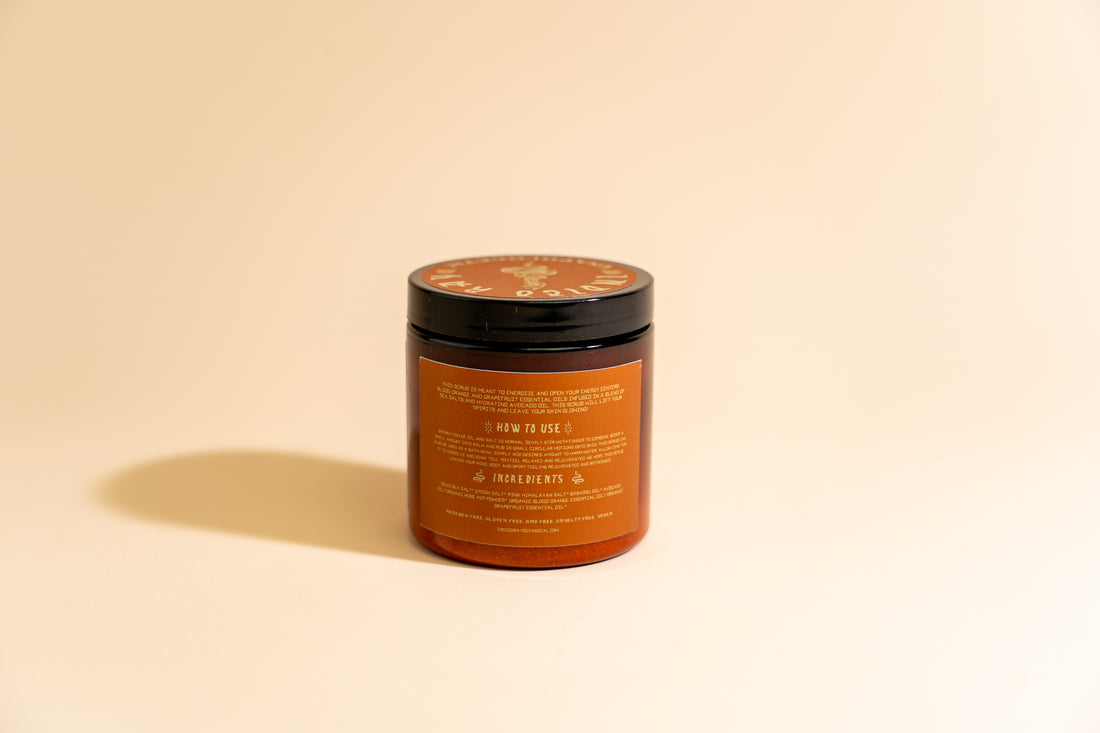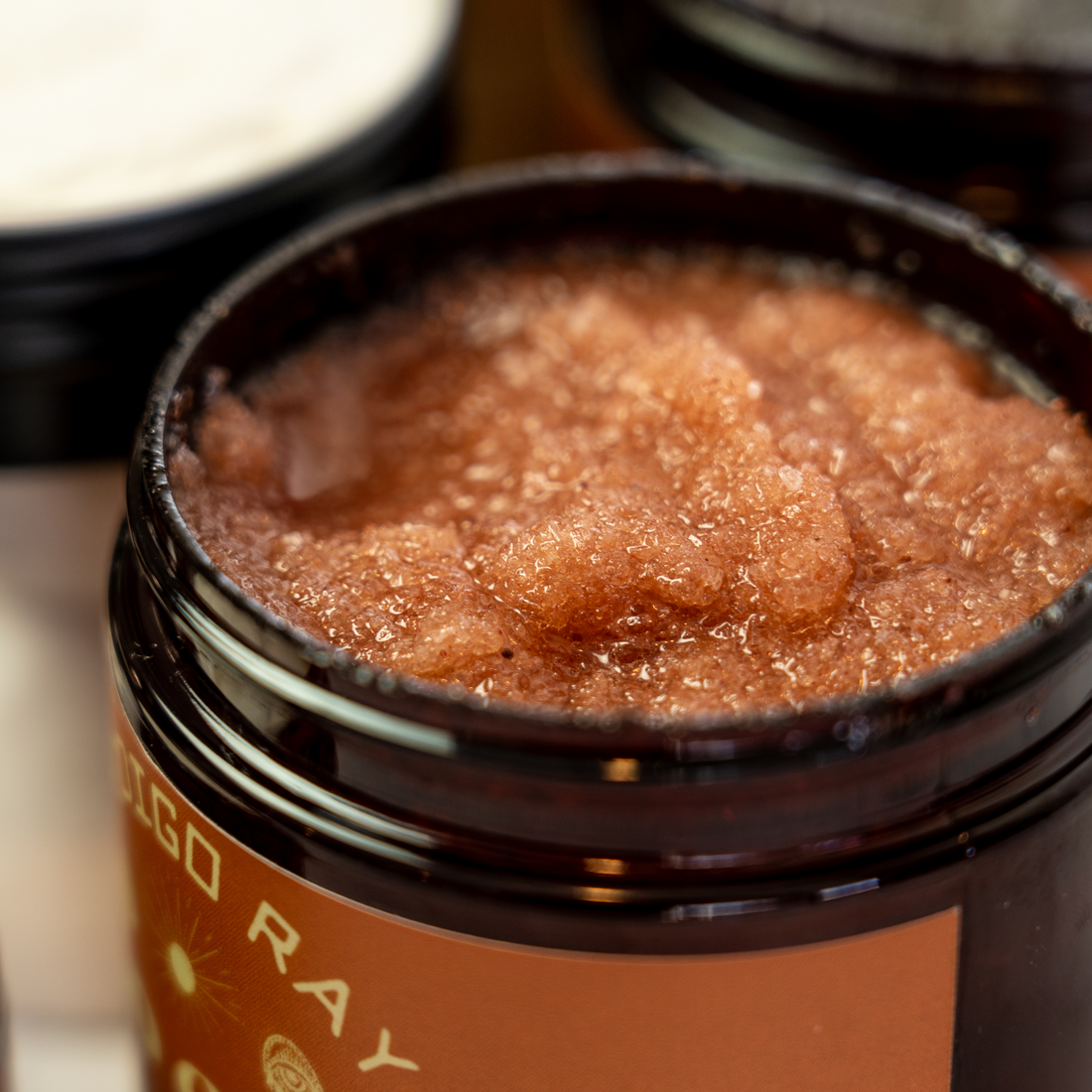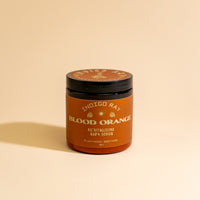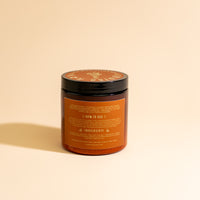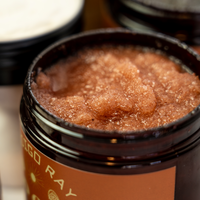 Indulge your senses with our Blood Orange body scrub! 
This scrub will leave your skin feeling cleansed, exfoliated and your senses energized! Organic blood orange and juicy red grapefruit essential oils come together to lift your mood and elevate your energetic centers. Finely ground Himalayan salt, epsom salt and dead sea salt work together not only to gently exfoliate but release any tension held by your muscles due to the magnesium rich mineral base. 
What's super special about this scrub? It is infused with rosehip extract! Rich in vitamin C helping to improve collagen production, pigmentation, eczema and acne! 
This scrub is perfect for those who have sensitive skin! Suspended in a delicate balance of moisturizing babassu and cold pressed avocado oil. 
STAR INGREDIENTS:
Rosehip plant extract: Rich in natural antioxidants. Alleviates eczema. Rosehip contains vitamin C, a collagen-stimulating nutrient that can help improve skin's firmness and prevent fine lines.

Organic Babassu Oil:  Balances the natural oils of the skin making it beneficial to all skin types. Due to the fact that it's so easily absorbed into the skin it helps to moisturize and hydrated the skin without leaving it feeling greasy. Loaded with vitamin E, babassu oil is helpful in cel regeneration. Anti-microbial helping to eliminate toxins and body odor. Anti-inflammatory, loaded with lauric acid, vitamin E and phytosterols which help with inflammation and healing irritated skin. Due to its anti-oxidzing properties babassu oil does a good job at destroying free radicals which lead to premature aging of the skin. 
Organic Avocado Oil: Loaded with vitamin E, potassium, lecithin, and many other nutrients that nourish and moisturize the skin. The anti-oxidants and vitamins in avocado oil help to heal dry, irritated, and flaky skin associated with eczema and psoriasis . Due to the natural fatty acids it' promotes the skins elasticity. 
Himalayan Pink Salt: The exfoliating nature of pink salt will leave your skin silky and soft. Loaded with nutrients and 84 minerals including iron, calcium, magnesium, and potassium. Helps to remove toxins and heavy metals from the body. Loaded with nutrients and minerals that get rid of dirt, grime, bacteria, and pollution from the pores. Gives your skin a gorgeous glow and prevents breakouts. 
Epsom Salt: Natural anti-inflammatory. Incredibly gentle yet very effective in removing dead skin and microbial toxins. Reduces the feeling of sore muscles and skeletal pain. Rich in magnesium. 
HOW TO USE:

Simply scoop a small amount into palm of hand and use in small circular motions for optimum exfoliation. 
*pro tip* use BEFORE shaving as it will clear away dead skin allowing for a closer shave and locking in moisture. Do not use after shaving as it may cause irritation due to the salt. 
*natural settling of oil may occur at top of jar, simply stir with your finger or shake jar before use*
Our products are always
- Mutagen free
- Toxin free
- GMO free
- Sustainably sourced
- Phthalate Free
- Paraben Free
- Organic
- Vegan
- Never tested on animals